hey there
@franckj please show me the screenshot of the text and link to the page, I will verify your problem
Hi,
Here they are.
https://bonjourdomain.com/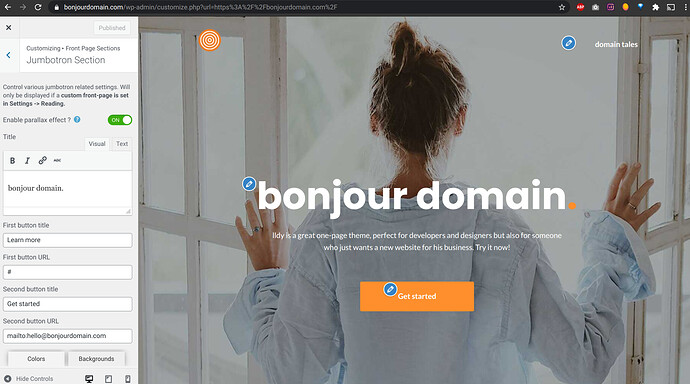 Thanks
Hey @franckj
Please send me your admin details in private and I will verify your problem
Thanks
Hi there,
I got exactly the same message and I cannot have access to modifying the background image. texts are ok. Could you help me to find out what I need to configure to reading : where the parameter 'custom front-page' is located ???
thanks
Sylviane
NB: I am starting thus running in local mode.
Hi there
Sorry, but this problem was identified as a bug and developer is already working to resolve it, it will be fixed in the next update of the theme
Hi,
thank you for your answer. I am sorry to hear that because I will have to wait but happy to know that it will be solved! I love your template, it is really easy to configure and nice looking.
Do you have any idea of the delay for the next update? I understand it is not easy to be precise but if the problem has been identified thus the solution is on its way thus may be you can estimate the load…
In case it take longer than what you expected , is there a mean to go inside a html or css and change the picture manually (temporary thing as it will be back to normal with the update)?
thank you for your answer.
Best regards,
Sylviane
Hi Sylviane, the developer is working on themes and unfortunately I really can't provide any ETA of this update, please take my apologies on this
Hi,
ok will wait but is there a mean to change manually in the CSS to change the name of the picture file or something to make the change appear even if this change will be lost by updating the theme once it will be solved?
it is not a permanent thing just allow to wait the developer fix the bug

and then retrieve the pretty and useful interface to configure it in the right way.
Best regards,
Hi
No, this is not only the CSS issue, it can not be fixed only by CSS changes