To Whom This May Concern,
My site (westbendcommunityband.org) is running Wordpress 5.9.3 with Sparkling theme 2.4.9. The top navigation bar includes a menu with the following:
ABOUT US
EVENTS
BLASKAPELLE
CHRISTMAS BRASS
PHOTO GALLERY
CONTACT US
MEMBERS AREA
When I browse my site on my iPhone 13 Pro via Google Chrome and click the hamburger icon, the menu only shows the first 5 menu items.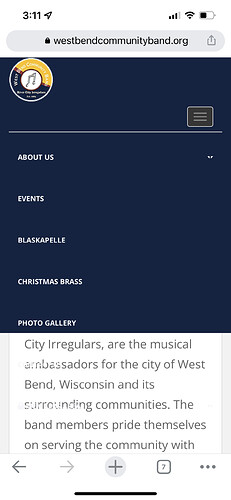 How do I fix this, so the menu displays all menu items?
Thank you.